Avery High School celebrated the return of live theater with 'High School Musical' | Avery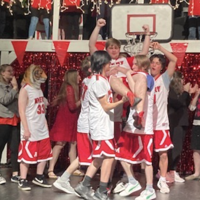 NEWLAND – Avery County High School Players presented Disney's High School Musical: On Stage—One Act Edition nights April 7-10 at the Avery County High School Mini Theater.
Stephanie Watson, a high school drama and choir teacher and Avery County Cranberry, performed "High School Musical" as her first production with the school.
After becoming a theater teacher in the fall of 2020, Watson led students in the classroom and virtual performances while navigating "ever-changing Covid-19 protocols, quarantines and shutdowns."
Watson shares that after the break from theatrical performances, she knew "High School Musical" was the perfect piece to pick.
"A lot of my students that I currently teach in high school have been with me since they were in elementary and middle school at Freedom Trail and Cranberry," Watson said. "I knew it was a piece that a lot of them had been interested in over the years."
Watson shared that about three weeks before the performance weekend, the male lead had to drop out of production. Senior student Walker Boone stepped into the role of Troy Bolton, learning his role in three weeks. Boone is an accomplished bluegrass musician and singer who represented Avery High School in the National FFA Talent Competition, but never performed prior to that experience.
Kayla Miller, a theater student at Appalachian State University, volunteered to be the show's choreographer and worked alongside Watson to bring the production to fruition.
Watson shares that the show was a successful return of live theater to Avery County High School.
"Each show sold out with a waiting list of names hoping to land a free seat. It's safe to say that our return to live theater at school was a complete success and exceeded my wildest dreams. "I am so proud of all my students and so grateful to the parents, staff and community who have supported me," said Watson.