Cuban political leader and songwriter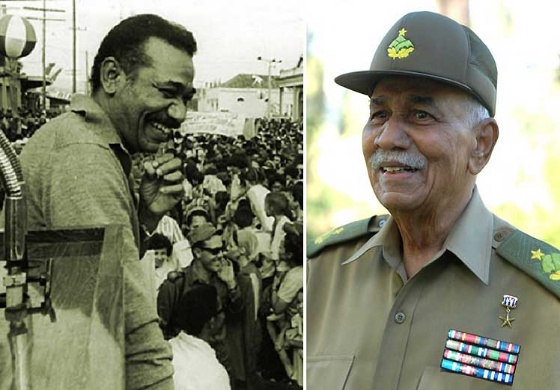 Home
Articles
New
Cuba
Saturday 11 September 2021
---
---
Havana, Sept. 11 – In addition to many exploits during the armed struggle in Cuba, Commander Juan Almeida (1927-2009) bequeathed a renowned artistic work and a human sensitivity which accompanied his responsibilities after the revolutionary triumph.
The 12th anniversary of his death is a reminder of the sui generis mixture of his work as a political leader and his artistic skills.
The vocation of composer close to the sea and nature has accompanied his creations, according to the testimony of his son and also musician Juan Guillermo to the local press.
Over 300 songs and a dozen books were signed by the captain, who kept a notebook and tape recorder in his car to enjoy the ride from one place to another.
According to his son, no other city on the island like Santiago de Cuba has brought him so close to art, perhaps because of its historical value to the revolutionary process or because of the landscapes surrounded by sea and mountains. .
There, where the author of La Lupe first arrived in July 1953, he participated with historical leader Fidel Castro in the assault on the Moncada barracks on the 26th of that month.
After passing through the model prison of the former Isle of Pines, now a special municipality on the Isle of Juventud, Almeida remained linked to organizational actions during the exile in Mexico and the landing of the yacht Granma in eastern Cuba.
He was the protagonist of the guerrillas in the Sierra Maestra and held various positions after the triumph of January 1, 1959, including that of vice-president of the Council of State and member of the Political Bureau of the Communist Party.
He was awarded the honorary title of Hero of the Republic of Cuba and the Máximo Gómez Order of the first degree, awarded on February 27, 1998, on the occasion of the 40th anniversary of his promotion to the rank of Commander of the Sierra Maestra.
In addition to his responsibilities and merits, there were compositions such as Este son homenaje, El gran día de enero or Qué le pasa a esa mujer as well as the texts General Máximo Gómez, Por las faldas del Turquino and La aurora de los héroes. (Text and photo: PL)