Explore the Arts in October, from Original Dance to Immersive Audio Experiences | Emory University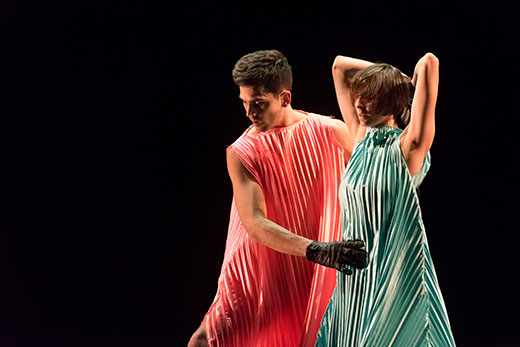 Emory Arts welcomes cooler fall temperatures with a solo word class debut in Atlanta, outdoor jazz concerts, a spooky immersive audio experience, and more throughout the month of October.
Dance programs
Dance and choreography duo Xan Burley and Alex Springer are in residence for two weeks this fall as part of the Donna and Marvin Schwartz Center Artist-in-Residence program. On Saturday October 2, at 2 p.m., the dynamic couple will present a showing work in progress of a piece they choreograph for the Emory Dance Company. On October 18 at 7:30 p.m., dance enthusiasts are also invited to attend a Friends of dance conference presented by Rosemary Candelario, Associate Professor, Texas Woman's University Department of Dance. Candelario, who is interested in Butoh and ecology in his art and scholarship, will focus his lecture on the different ways in which Butoh dancers make connections between dance and their local landscapes.
Concerts and recitals
On Sunday October 3, the 2021-2022 Candler concert series continues with a magnetic artist Pretty Yende at 4 p.m. Making her Atlanta debut for a solo recital, the South African soprano is known for her internationally acclaimed lyrical and solo performances and her critically acclaimed discography. Tickets are on sale now and, in addition to the ability to experience the concert live in the Emerson Concert Hall, ticket holders automatically have access to the live broadcast of that performance via their boss account.
Other musical offerings in October include Jazz on the green, featuring free outdoor performances of the Emory Jazz Ensembles at 6 p.m. on October 7 and 21. Atlanta's Emory Chamber Music Society is presenting two concerts this month: a midday program of piano duets for four hands October 15 and Beethoven and a big band featuring Joe Gransden's 17-piece big band on October 30 at 8 p.m. Emory University Symphony Orchestra (Oct 23, 8 p.m.), Emory Wind Ensemble (Oct 24, 4 p.m.) and Emory Choirs (Oct 29, 8 p.m.).
Cinema and theater
Emory's Film and Media Department continues its fall series "Media Lives: Conversations with Creative Professionals" Wednesday evenings at 6:30 p.m. via Zoom. This month's guest artists include cinematographer Dave Perkal ("Entourage" and "Vampire Diaries") on October 6 and editor Walter Fasano ("Call me by your name" and "I Am Love") on October 20th.
Bring a lawn chair or blanket to enjoy an outdoor screening of the filmed version of "Sweet earthOn Emory's Quadrangle on October 6 at 7:30 p.m. Named "Best New Opera of 2021" by the Music Critics Association of North America, The Industry's "Sweet earth " is a grotesque historical spectacle that disrupts the dominant narrative of American identity. The filmed version was originally shot outdoors in Los Angeles State Historic Park. The screening is sponsored by the Michael C. Carlos Museum and is in conjunction with the museum's "Each / Other" exhibition of works by contemporary Indigenous artists Marie Watt and Cannupa Hanska Luger, on display until December 12.
Oxford College hosts virtual screenings of independent films through Southern Circuit, an initiative of the Atlanta-based arts organization South Arts. In "Don't go quietly", Available from October 10 to 13, the filmed exchange between a young father and a powerful senator goes viral and triggers a powerful political movement. "And so I stayedAiring October 24-27, is an award-winning documentary about abuse survivors who fight for their lives and spend years behind bars. Visit the link for each movie to learn more and to email a request for streaming information.
Just in time for Halloween, Theater Emory in collaboration with Knock at the Gate and Multibrand Studios will present Macbeth, a new immersive audio experience designed for a pair of headphones and total darkness. The performance will be broadcast from October 28 to November 7; visit the Emory Theater for more information.
Creative discussions
On October 19 at 6:30 p.m., the Emory Creative Writing Program and the Department of African American Studies present The Phillis Wheatley Reading: Tiphanie Yanique, prose writer and poet. Associate Professor of English and Creative Writing at Emory, Yanique is the author of the award-winning novel "Land of Love and Drowning", the short story collection "How to escape from a leper colony" and the collection of poetry. "Wife". His new novel, "Monster in the Middle", will be published in October by Riverhead.
Join this year's cohort of artists and scholars of arts and social justice (ASJ) for "Social justice through art", live broadcast from the Performing Arts Studio on October 27 at 12 p.m. During this panel discussion, the 2021 ASJ Cohort will share their classroom experiences so far this fall, reflecting on the role art plays in changing perspectives and the transformation of education.
All events are open to the public and most are free. See the individual event information for more details.