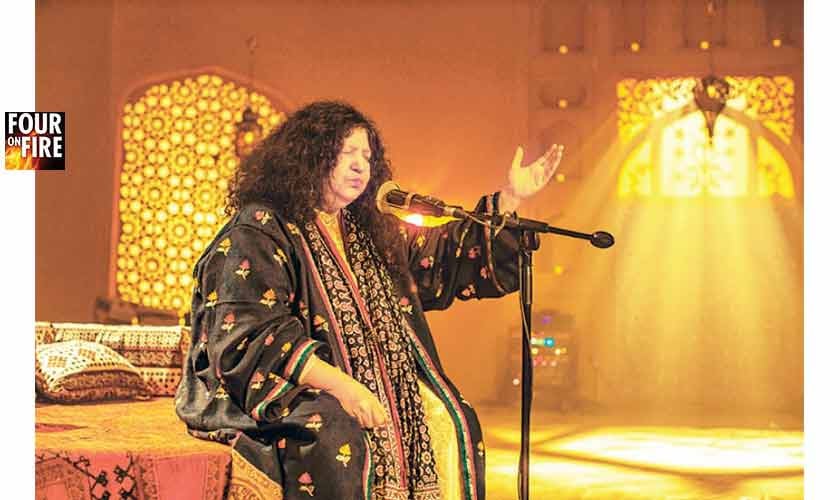 This is not the first time that Naseebo Lal or Abida Parveen have appeared on Coke Studio. But under the umbrella of the first time Coke Studio Executive Producer Zulfiqar Jabbar Khan aka Xulfi, Shortest
the season is going in a radically different direction. Teamed with Abdullah Siddiqui, who serves as
Associate music producer on several songs, expectations are high from Coke Studio 14. The single Abida Parveen-Naseebo Lal'You Jhoom', however, delivered the music's first hit
series since its release.
The BTS videos include an introduction to the featured artists as well as one with Xulfi at the center. The real beauty is in the BTS video featuring Naseebo Lal, who not only explains the song, but speaks from the bottom of her heart about returning to the platform and the love she has for the iconic Abida Parveen. The song, as Abdullah Siddiqui observes, is "a perfect blend of traditional sounds – essentially desi but in an updated, almost postmodern way", and we share the point of view.
With the expertise of Xulfi as producer and artist, with Abdullah Siddiqui as music producer and featured artist, and the words of Adnan Dhool, the combined efforts resulted in a hypnotic allegory where transitions are welcome and the stylistic change of music is harmonious. Like Coke Studio drops other equally collaborative or solo singles from Coke Studio 14, we take a look at four collaborations from previous years that reflect the show's innovative legacy as it projects into the future.
'Aik Alif'
Noori and Saeen Zahoor
This song was not only a historic achievement for Noori who quietly announced her comeback with the series, but also for the musical series. He opened the doors to Sufi ideals with no other goal than to introduce Noori's audience to the folkloric charm and experience of Saeen Zahoor. Ali Hamza worked with Saeen Zahoor and the reception to this song was warm, with many still remembering this ode to faith in a higher power while doing it in an organic way never seen before in Pakistan. It's still a fan favorite, echoing the love for the beloved.
'Alif Allah Chambey Di Booty'
Arif Lohar and Meesha Shafi
One of the greatest successes in the illustrious history of Coke Studio, he defied conventional norms by
merge a folk favorite being sung by a folk
emerging magician and singer-songwriter
Meesha Shafi, who was then known for the music group Overload in vernacular music. Courage, a groovy house band and the electrifying environment, backed by a lush setup and the duo of two radically different voices made this another song in Coke Studio history as a huge hit, a fan favorite, and a song with an exciting narrative.
'Rang Laaga'
Sanam Marvi and Sajjad Ali
Perhaps one of the most underrated songs to emerge from Coke Studio, 'Rang Laaga' released in the fourth season of Coke Studio. Technically a chaadi song with a somewhat different musical idea in Sajjad Ali's mind, then music producer Rohail Hyatt converted the collaboration into a different design. Melancholic at first, almost opera as it rises crescendo. At the time, as Pakistan faced terrorist attacks, Mr Hyatt explained how our color is red, in reference to the bloodshed that followed the country. There is no other song like this in the Coke Studio discography, which makes it even more magnificent.
'Na Tutteya Ve'
Various artists: Meesha Shafi, Sanam Marvi, Fariha
Pervez, Zara Madani, Wajiha Naqvi and Sehar Gul Khan
The idea behind this song, originally composed and written by Shuja Haider, was to explore an all-female anthem. Rohail Hyatt, as a music producer, tapped him to produce in 2020 with a bang. He added Meesha Shafi who not only sings with the line-up but also composes a rap which she sings at the end of the song. Featuring all the singers of the 2020 season, it included Meesha Shafi, Sanam Marvi, Fariha Pervez, Zara Madani,
Wajiha Naqvi and Sehar Gul Khan and is still the first song in the show's history to feature an all-female lineup.
With lyrics that talk about equality between men and women (whether it's wanted or not) and the variety of voices, the song testifies to women who are resilient that even when the heart breaks, it doesn't stay broken – a force that is a definition of how women are treated in this country.