Grammy-nominated singer-songwriter Rick Lang releases narrative album, "A Tale To Tell"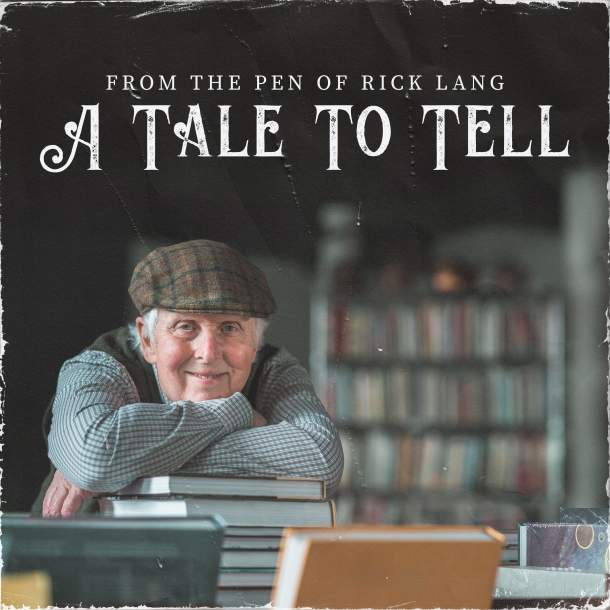 Grammy-nominated songwriter Rick Lang released their long-awaited album, A story to tell. This captivating collection of history songs, and her debut album on Dark Shadow Recording, comes to life with the incredible vocal talents of Tim Stafford, Shannon Slaughter, Becky Buller, Trey Hensley, David Parmley, Stephen Mougin, Luke Munday, Kati Penn, Alan Bartram, Brandon Rickman, Jana Mougin, Rick Faris and James Kee.
"I really hope people enjoy listening to this new collection of story songs, all based on true stories and real life experiences. Stephen Mougin and I have been planning this album for years. He made a brilliant job overseeing and producing this new creative work. I'm forever grateful to all the performers for sharing their talents and bringing these songs to life," says Rick Lang.
"Many years ago when Rick Lang brought me this idea and a huge collection of his writings," proclaims producer Stephen Mougin. "I got hooked right away. singers and then releasing it on our DSR label was too hard to resist. Rick and I share a New England heritage and this project features story-songs, mostly true, with a strong emphasis on tales from that region. I'm proud of the album we've created and grateful to all of the incredible performers who helped bring "A Tale To Tell" from concept to reality. I think people will really appreciate this throwback to the struggles, love, determination, and perseverance of past generations.
LIST OF TRACKS:
SONG: 01 Sawmill Man feat. Tim Stafford
DURATION: 3:24
SINGING HARMONY: Stephen Mougin, Alan Bartram
MANDOLIN: James Kee
RAPIST: Becky Buller
BANJO: Ned Luberecki
GUITAR: Stephen Mougin
BASS: Todd Parks
SONG: 02 Shadow In The Pines feat. Shannon Slaughter
DURATION: 3:39
VOCAL HARMONY: Stephen Mougin
BANJO: Ned Luberecki
MANDOLIN: James Kee
DOBRO: Justin Moses
GUITAR: Stephen Mougin
BASS: Todd Parks
SONG: 03 They sawed off a storm feat. Becky Buller
DURATION: 3:29
SINGING HARMONY: Laura Orshaw, Jana Mougin
BANJO: Ned Luberecki
MANDOLIN: James Kee
RAPIST: Becky Buller
GUITAR: Stephen Mougin
BASS: Todd Parks
SONG: 04 Exploit of the soldier's last request. Trey Hensley
DURATION: 4:47
HARMONY VOCAL: Stephen Mougin, Ashby Frank
BANJO: Ned Luberecki
MANDOLIN: James Kee
RAPIST: Becky Buller
DOBRO: Justin Moses
GUITAR: Stephen Mougin
BASS: Todd Parks
SONG: 05 Feet Restless Wind. David Parmey
DURATION: 3:42
VOCAL HARMONY: Larry Stephenson
BANJO: Ned Luberecki
MANDOLIN: Sam Bush
RAPIST: Becky Buller
GUITAR: Stephen Mougin
BASS: Todd Parks
SONG: 06 Miner's Son feat. Luke Munday
DURATION: 3:33
VOCAL HARMONY: Ashby Frank
BANJO: Ned Luberecki
MANDOLIN: James Kee
DOBRO: Justin Moses
GUITAR: Stephen Mougin
BASS: Todd Parks
SONG: 07 White Dove Of The Desert feat. Katie Penn
DURATION: 3:43
HARMONY VOCALS: Stephen Mougin, Jr. Williams
BANJO: Ned Luberecki
MANDOLIN: James Kee
RAPIST: Becky Buller
GUITAR: Stephen Mougin
BASS: Todd Parks
SONG: 08 Toodleoo feat. Stephane Mougin
DURATION: 4:28
HARMONY SINGING: Jana Mougin, Samuel Mougin
BANJO: Ned Luberecki
MANDOLIN: Sam Bush
RAPIST: Becky Buller
GUITAR: Stephen Mougin
BASS: Todd Parks
SONG: 09 Johnstown Flood feat. Alan Bartram
DURATION: 3:54
HARMONY VOCAL: Stephen Mougin, Ashby Frank
BANJO: Ned Luberecki
MANDOLIN: James Kee
RAPIST: Becky Buller
GUITAR: Stephen Mougin
BASS: Todd Parks
SONG: 10 Cross Beside The Highway feat. Brandon Rickman
DURATION: 3:23
VOCAL HARMONY: Stephen Mougin, Alan Bartram
BANJO: Ned Luberecki
MANDOLIN: James Kee
RAPIST: Becky Buller
GUITAR: Stephen Mougin
BASS: Todd Parks
SONG: 11 wounds that never heal feat. Jana Mougin
TIME: 5:18
HARMONY SINGING: Laura Orshaw, Stephen Mougin
BANJO: Ned Luberecki
MANDOLIN: Sam Bush
RAPIST: Becky Buller
DOBRO: Justin Moses
GUITAR: Stephen Mougin
BASS: Todd Parks
SONG: 12 One Big Hammer, One Big Rock feat. Rick Faris
TIME: 4:41
SINGING HARMONY: Stephen Mougin, Alan Bartram
BANJO: Ned Luberecki
MANDOLIN: Sam Bush
RAPIST: Becky Buller
GUITAR: Stephen Mougin
BASS: Todd Parks
SONG: 13 Lost Town feat. James Kee
TIME: 4:09
HARMONY SINGING: Jana Mougin, Stephen Mougin
BANJO: Ned Luberecki
MANDOLIN: James Kee
RAPIST: Becky Buller
GUITAR: Stephen Mougin
BASS: Todd Parks