LG Electronics Releases Campaign Music Conducted By American Singer-Songwriter Charlie Puth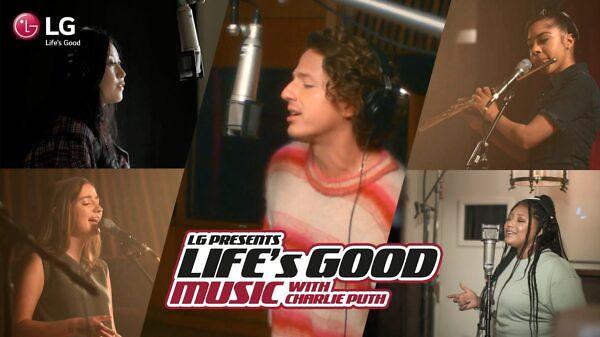 SEOUL – Via its YouTube channel, LG Electronics released music from an international campaign led by American singer-songwriter Charlie Puth to help young people create songs and video content about meaningful memories in life and post them on social media.
LG's "Life's Good" campaign aims to give young people the opportunity to let their creativity and talent shine. The artists covered Puth's song in their own way and uploaded video content to social media.
Launched in May, the project targeting the Millennial and Z generations received more than a thousand applications from 36 countries. Puth selected four winners for the collaboration, including Sade Whittier and Stacey Capers from the United States, Stacey Ryan from Canada and Danielle Kim, a Korean-American artist known for her stage name Dani.
From September 3 until the end of the year, their music video will be screened on electronic boards in Times Square in New York and Piccadilly Circus in London. Fans can participate by posting a video of themselves dancing to the catchy new track.
"Meeting and collaborating with artists from all over the world has been an incredible experience and I was so impressed with all their talent," Puth said in a statement released by LG on September 3. "The song we created together is really wonderful and I can't wait for everyone to hear it."
Jackson Tisi, a filmmaker, who won the Gold Award for his short documentary "Leon" at the "Young Director Award 2020", produced a 20-minute story by editing video clips uploaded by creators. The film project aims to convey a message of universal hope and to celebrate the diversity of experiences and perspectives of young authors through their inspiring and unique stories.
"The film demonstrates the beautiful differences of the human diaspora and our various environments, while also revealing how completely we are linked in soul and spirit and have become even more due to the global COVID pandemic- 19, "Tisi said earlier.
© Aju Business Daily & www.ajunews.com Copyright: Any material on this site may not be reproduced, distributed, transmitted, displayed, published or broadcast without permission of Aju News Corporation.