Skyline Music Studio celebrates 15 years of activity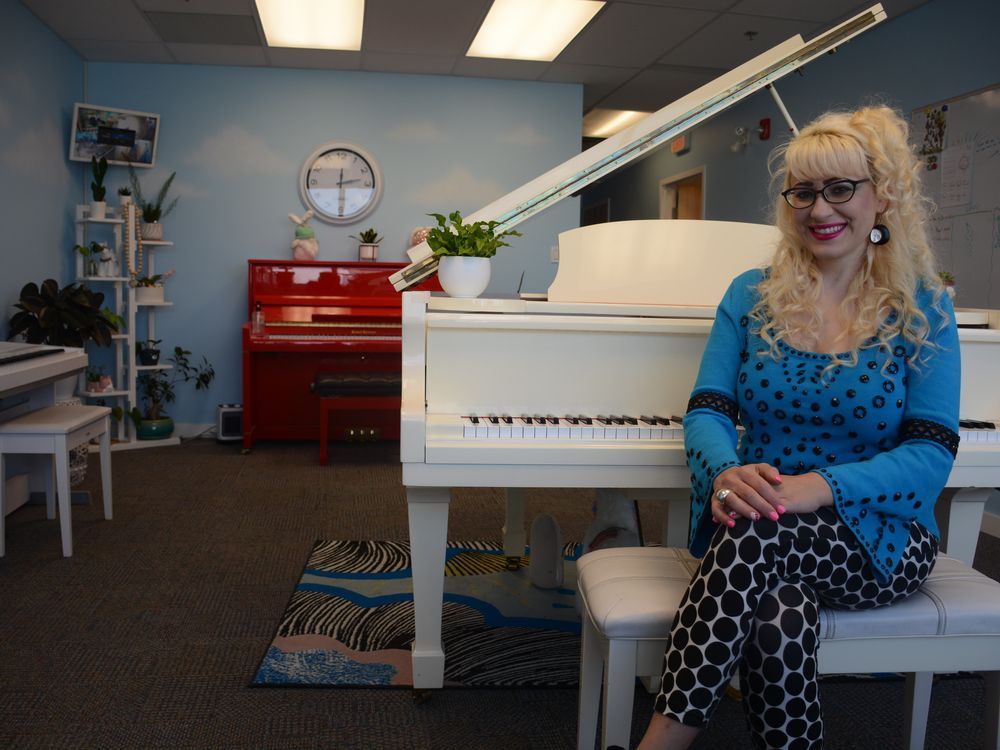 Content of the article
Skyline Music Studio celebrates its 15th anniversaryand year in business and 6and year Airdrie called home, and the resilience and successes that come from operating a local music school for years.
Content of the article
Skyline is a story of resilience. The school opened in 2008, successfully weathering several economic downturns and most recently the COVID-19 pandemic.
Lisa Ammirati, owner and teacher of Skyline Music Studio, said that since moving to Airdrie in 2013, she wanted to teach music here.
"At the time, there were only a few schools, so I thought why not open my own? Then I could be closer to home and make it more of a community school, with as many disciplines as possible," Ammirati said.
"We had 100 kids (in Calgary) and I needed a bigger, safer space. For me, Airdrie made sense because I already loved living here.
Even when operating in Calgary, Skyline taught children from other communities like Cochrane, Chestermere and Airdrie.
Even after their move, every student at the time decided to continue their education at the school, Ammirati said.
"They followed us all the way and they are still with us. Now that we're kind of settled, we have even more students from Airdrie and we've been able to maintain a ratio of around 50-50," Ammirati said.
"We mainly teach students up to the first year of university. We were very lucky because it helped fund the school for the early years (in Airdrie)," she said.
"We stay with the students as long as they like the music. I have many students who started when they were three and are now 17 and still do piano and music theory.
She added that teachers at the school emphasize building relationships with their students to help them reach their highest potential.
Content of the article
"We pride ourselves on long-term education. If you connect with your teacher, then that will be your teacher for as long as you love music," she said.
The COVID-19 pandemic meant classes could not be delivered in person, but surprisingly Ammirati said students were showing even more success after switching to Zoom classes.
"Zoom classes have totally changed lives. These kids were training and participating, and I had a higher pass rate on their exams than I have ever seen in 25 years of teaching," she said.
Ammirati and another teacher from the school were nominated for the Amazing Airdrie Women Awards, and Ammirati was also nominated for the one-year Airdrie Mayor of the Arts.
She said many students have become fully World Conservatory of Music certified by starting at Skyline.
"Many former students are trained at the World Conservatory of Music. They start at exam level and range from piano grades one to ten," she said.
"We've had many students who we sent the whole program through to graduate in piano before they were 19."
Several students have progressed from this time to pursue an associate degree, also known as an ARCT.
"We are all certified by the Royal Conservatory to teach. We need to have certain credentials and consistent professional development," Ammirati said.
"We also need to ensure that students study the courses successfully. We maintain this diploma… and remain there constantly.
Skyline is also an approved Yamaha school.
The school accepts young and old students. Some teachers also specialize in working with children with conditions such as autism and ADHD.
More information about the school and available classes can be found at skylinemusic.ca.