Studio 111 is preparing a hit Disney musical | Community orientation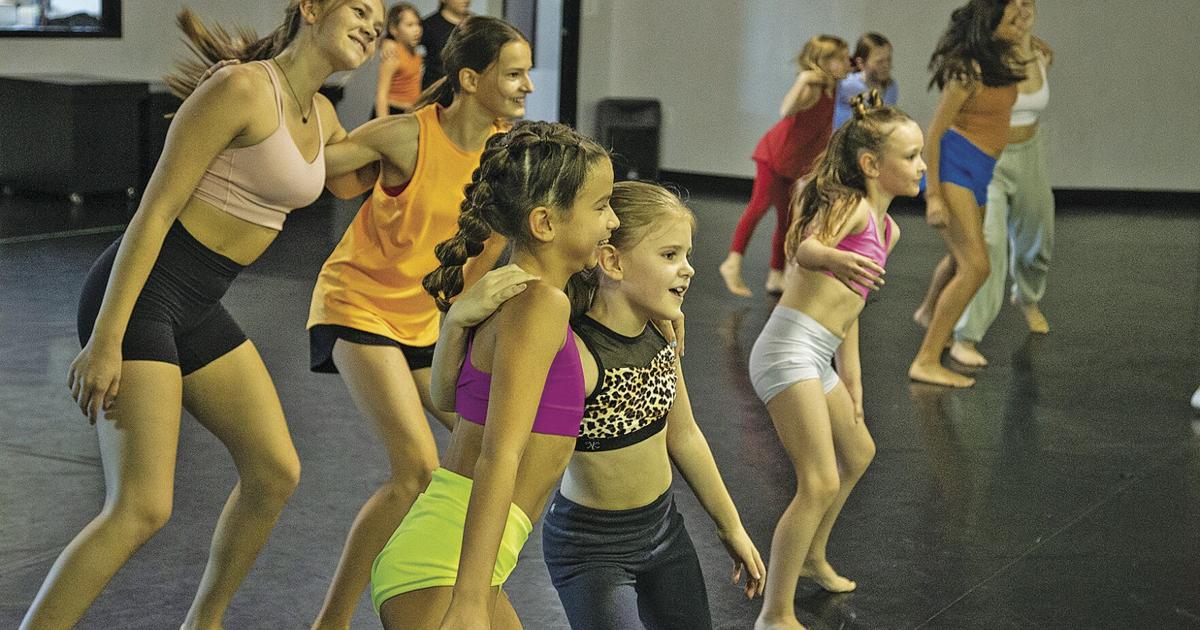 Disney Channel's "The Descendants" – with their dancing, singing hit songs – will be brought to the stage by an enthusiastic and talented group of young actors, singers and dancers on June 25 Courtesy of Studio 111 Theater Company, a division from Ahwatukee's Dance Studio 111.
It's Dance Studio 111's first summer musical since it was shut down by the pandemic for two years.
"Our last full production was 'Frozen' in 2019, and we're so happy to finally be back," enthused Kimberly Lewis, show producer and founder of Dance Studio 111, 4910 E. Chandler Blvd.
Tickets for the 1 p.m. and 6 p.m. performances at Madison Center for the Arts, 5601 N. 16th St., Phoenix, are currently available at DanceStudio111.com under Theater. "Disney's Descendants: The Musical" features characters from the films.
Mountain View High School student Seth Davis travels daily from Mesa for his role as Jay, one of four teenage troublemakers, the children of some of Disney's greatest villains. They leave the Isle of the Lost to enter Auradon Prep in the United States of Auradon.
Jay is the son of Jafar, the villain of Disney's 1992 film "Aladdin." Jafar is played by Brennan Wiscombe, a freshman at Brophy College Preparatory.
This is Seth's first starring role, and makes it his first stage appearance.
"I think playing this role takes a lot of focus; playing Jay, you gotta really nail the game," Davis said. "I don't have long hair like the character in the movie and I could have worn a wig but I chose not to because I thought I could change my look. I'll be mean, tough and definitely 'Rotten to the core", but not as crazy as him, and there will always be a Tourney (CQ) team.
Bringing Davis to the musical's five weekly rehearsals is a task for Mesa's single mother Simone Davis, but she undertook it willingly.
"Seth is my eldest child of five and I want him to be able to reach his full potential, so if that means driving him 27 miles one way to train every day, then that's what I'm going to. do," said her mother, Simone Davis. "We came there thinking we had no chance because he had no experience. Yet, as a single mother, I believe in the future of my children. No matter the distance or the cost. We were thrilled when he got the role of Jay.
Another newcomer to the cast at Studio 111 Theater is Evan Sanchez who holds the role of Ben, son of Belle – played by Drue Haro who is entering Grand Canyon University this fall, and the Beast played by Phillip Hansen from Seton Catholic High School.
who is the king of Auradon and who proclaims that four teenagers can leave the villain's island prison to enter Auradon Prep.
Sanchez, 16, is entering his senior year at Seton Catholic Preparatory where he performed on stage throughout his high school years – except during COVID. This is his first time with Studio 111.
"As for Ben, I like my character to be smart, protective – like I am of my little sister Maddie, and loyal, like I am to my girlfriend, Drue, who plays my mom, Belle, in this comedy. music," he smiles. . "Ben is confident, which I think is one of my big traits, and he doesn't decide what other trait I think is a good quality. My character is brave and not afraid of change. I feel like I I'm a similar person to Ben in real life," he said. "I'm not running around singing and dancing, but maybe I should try!
Stella Parsons, 14, plays Mal, the daughter of Maleficent – the protagonist of Disney's "Sleeping Beauty," and later the title character in two films.
An actor and singer since the age of four, Parsons – who lives in North Scottsdale, will be a freshman at Notre Dame Prep. She has done over 10 productions throughout the valley. Alumnus of the Broadway Artists Alliance in New York where she studied musical theatre, including acting, singing and dancing, this is her first production with Studio 111 Theater Company.
"I'm so honored to be cast as Mal in Descendants. It was so much fun! I appreciate the wonderful cast and the friendships I make with these super talented actors the most," she said. there are intricate dances that are challenging but fun to learn! I also love the musical score, all the songs are super catchy and it's a fun experience to go wild on stage. Plus, who doesn't love Purple Hair ?"
Maleficent is played by 18-year-old Briarley Crandall, a sophomore at Eastern Arizona College who said it was her first big role.
"I'm super excited to play Maleficent in this production and hope I can do her character justice. I'm especially excited to embrace Maleficent's sassy and evil personality.
"I love my cast members! They're all super talented! I love seeing them get into their characters and give them a unique feel, and I'm so honored to be in this production with them.
Disney's Descendants: The Musical's high-energy songs and focus on teenagers appeal to all 45 cast members.
Evie's role as Altadena middle seventh grader Evie has been fun for the Studio 111 Theater Company veteran who has been taking dance lessons at Dance Studio 111 since the age of six. .
"I really like the character of Evie because even though she's a villain, she has a very kind and loving personality. I love all the songs she sings, especially 'Chillin' Like a Villain'. My favorite part of the piece is the finale, 'Break This Down,' because it involves the whole cast and is super fun to sing and dance to," said Ricks, who is a varsity cheerleader. Altadena and who is part of their choir. "I love acting and hope to become a singer one day."
The teenage villain role of Carlos, Cruella's son, is played by Eli Hernandez, a seventh-grader at Altadena High School.
Hernandez, 12, is no stranger to Studio 111 Theater Company having starred in three previous summer musicals – Little Mermaid, Shrek and Frozen.
He said he was thrilled to win the role.
"Carlos is my favorite character in the movies, but I want to put my own spin on the character, not just copy the movie. Carlos has a lot of funny moments. He tries to act so tough but in reality, he's not as tough as it looks.
Performing on stage at the 940-seat Madison Center for the Arts auditorium is exciting for the actor.
"It's going to be different playing on a bigger stage, but I'm excited to see the show come together in a new space," he said.
While the cast members are excited to perform on the cavernous, state-of-the-art stage at the Madison Center for the Arts, this musical's producer and owner of the dance studio, 111 Theater Company, admittedly has some apprehensions about the idea. to fill the 904 seats.
"We really want to get people to come to this show. We have been hit very hard by the fact that Covid has had to shut down our theater company for the past two years, so we are starting to try and rebuild again," said Lewis, who has owned and operated Dance Studio 111 for 29 years. "We pray that people will come out and support our theater group and see these talented kids who have worked so hard; they need and deserve a large audience!
Lewis said that even though 'Disney's Descendants: The Musical' license only offers 22 characters, it was able to increase the cast to accommodate more actors and dancers who showed up to audition.
"We wanted as many kids as possible to take part in this fun show," she said. "And can you believe we put this whole show together in three weeks? Our cast met the first three weeks of June Monday through Friday from 2:30-6:30 p.m., so yes, they are very dedicated children and teenagers.
Lewis praises the adult and teen crew members, including incoming DVHS sophomore Maddy Mindeman (CQ) who serves as dance captain for the high-energy production.
Jenefer Miller is the director of this year's musical with Rachal (CQ) Bautista (CQ) serving as musical director. Lewis's daughter, Avery Lewis, is a choreographer and Audrey Williams is assistant director.
Besides producing. Kimberly Lewis coordinates costumes, props while supervising makeup and props.
TICKETS for both shows, at 1 p.m. and 6 p.m., are available by clicking on Theater on the DanceStudio111.com website or on TheMadison.org.
The Madison Center for the Arts is located at 5601 N. 16th Street, Phoenix. Free parking is available at the new 375-space covered parking structure located directly south of the facility near Madison Drive.