Syracuse and Styles strive to support the music industry | Pith in the wind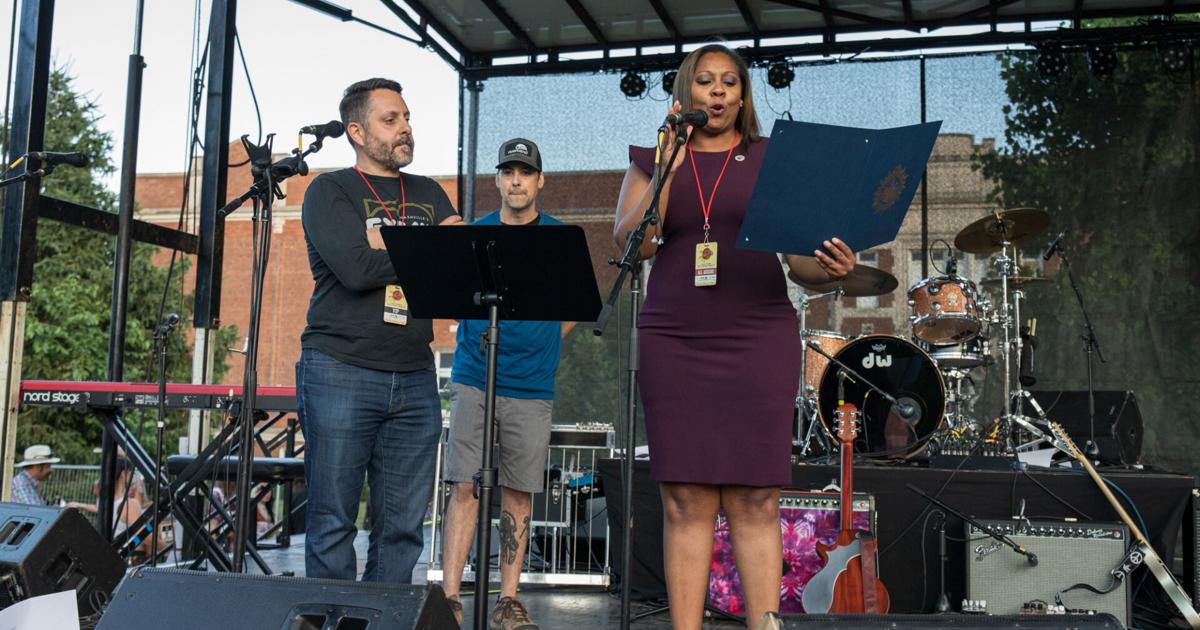 Metro Council members Joy Styles and Jeff Syracuse recently traded barbs on a hypothetical Nashville Entertainment Commission, a 15-member body offered by Styles defend the city's creative industries. Both have been outspoken defenders of the Nashville music scene. But they differ on how Metro can help the city's venues, songwriters, musicians and film industry.
Syracuse confirmed to Stage Tuesday that he plans to run for a seat on the Metro Council in 2023. Next year, he will complete his second term as a representative for District 15. He cites Nashville's threatened music industry as one of the main drivers of his decision to remain in local government.
"I spent 25 years fighting for the composers, songwriters and publishers in this industry," Syracuse told the Stage. "There needs to be someone at the grassroots level championing the creatives that are working, the industry and the economic impact it's making for the city."
Mayor John Cooper gave a shout out to both Styles and Syracuse during his State of the Metro address in April, when he announced the creation of a new Metropolitan Office of Music, Film and Entertainment. The mayor's office did not respond in time for publication.
The Metro Office of Music, Film and Entertainment has yet to take shape, leaving Styles and Syracuse to chart their own course. Both bristle at the growing perception that Nashville has become hostile to the creative culture that has given the city an international reputation. Corporate monopolies continue to shore up all aspects of the music industry, from venues to ticket sales to streaming, as the city's unaffordability and real estate bonanza make independent creative businesses less viable. When the new property is threatened the future of Exit/In, Syracuse, and Styles played a pivotal role in advocating for its preservation. The iconic Elliston Place venue is only booking shows through Thanksgiving, the end of their current lease.
Both board members have careers in the music industry – Syracuse at BMI and Styles as artist – and both see a way for Metro to help them. Styles criticizes Syracuse for spending seven years working on a solution without showing anything, resulting in a politically motivated territorial response to his push for a new commission.
"He considered himself the king of all things music, assuming he can make statements about how anyone else interacts with the music industry, and he has wrong," Styles told the Stage. "It's very petty, and it's very selfish and it's very selfish. I think it is very much related to the personal ambition he has beyond the end of this mandate.
Syracuse sees Styles' bill as its attempt to hijack years of preparation — including broad stakeholder buy-in that Syracuse says has been underway since Mayor Karl Dean's administration.
"Out of the blue, she's dropping off this Entertainment Commission, a politically appointed 15-member body without engaging anyone in the music industry," Syracuse says. "I would like her to collaborate. I offered him to be part of the process I'm doing to engage the music industry.
The two exchanged harsh words during a meeting of Metro's budget and finance committee on Monday night. Styles called the Syracuse floor speech a tantrum. Syracuse began his remarks with an outright rejection of Styles' legislation.
"Where to start?" Syracuse asked the committee on Monday. "The godfather now has a pattern: legislate first, ask questions later." He called Styles' approach silly. "How can you possibly pass a law that has no engagement with this city's most important industry?"
Styles tells the Stage that his legislation is a response to calls from voters and the music and film industries for the city to step up. "There's a gap in this city in terms of the treatment of entertainment," Styles says. "We know we are Music City and we have to listen."
Styles' bill to create the Nashville Entertainment Commission is on second reading tonight. It was postponed twice. Council member Robert Swope proposed a hostile substitutewhich recategorizes the commission as a council and reduces its size to nine.