This 17-year-old Catholic singer/songwriter will blow your mind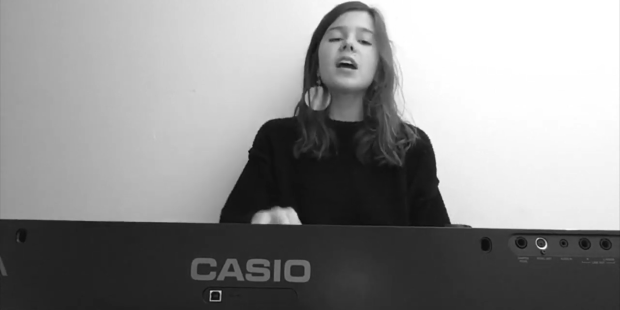 Juliana Grantz is still in high school, but she writes songs of faith like a seasoned pro.
Our ongoing search for the best Catholic music recently led us to a collection of songs written and performed by Julia Grantz. This 17-year-old songwriting prodigy had our jaws on the floor with her wholesome brand of utterly soothing music.
We first noticed Grantz when her official performance video for "Different Kind of Love" was released in June 2022. The tune, featured above, is everything we would have expected from an artist with decades more experience than Grantz might have at 17.
Its lyrics are concise and extremely well thought out, showing a deeply introspective thinking ability that characterizes some of the best Catholic theme songs. It's an aspect of religious songwriting that may elude even some of the most famous artists, but Grantz seems to achieve this naturally.
She also doesn't sacrifice melody for lyrics. If she has more than enough words for a certain pattern, Grantz isn't afraid to change things up; modify the rhythm to incorporate more lyrics if necessary. This in turn serves the music to keep each verse fresh and allows each song to build and grow throughout.
"Just a small work of God"
Many aspects can mark a prodigy, and although Grantz does not perform unachievable technical feats on his instruments, his writing alone is described as prodigious. For example, we turn to his 2021 release, "Just a Little Work of God," a song that's overflowing with joy.
Here, Grantz sings of his own admiration for all of God's creation, from the serene landscapes of nature to the smallest newborn. The multi-instrumentalist swaps her piano for a ukulele and fills out the rest of the song with layered vocal harmonies that give the whole thing a laid-back, relaxed feel.
Its innocent tune is perfectly joined by images of downright adorable babies in the official music video. She even gave the video a little personal touch by adding clips from home movies featuring her younger sister and cousin. In this song, Grantz made a decidedly pro-life product, without any reference to the social question. It's an impressive feat that many in the industry could learn a lot from.
"Gianna's Song"
While many of us may not have been familiar with Grantz's superb music until now, there is a whole community in Italy that has been following her since 2019. When she was just 14, Grantz was touched by the story of Saint Gianna and felt called to write a song to honor her. Not only is it a great song, but at 14, Juliana displays vocal prowess that would be the envy of any budding singer.
According to the Catholic Courier, Saint Gianna's daughter heard the song and praised it. Now, a video made by Grantz on "Gianna's Song" will be screened during the celebration of the centenary of the saint's birth in the Archdiocese of Milan.
Of her music, which she considers a mission, Grantz told Catholic Courier:
"It's kind of my way of being a missionary," she explained. "There are people who go to preach, there are people who go to different countries. I think the gift that God gave me is to write songs and perform.
Learn more about Juliana Grantz on her official website and be sure to follow her on YouTube and Spotify for all of her latest releases.