Verckys Kiamunguna: The best producer and saxophonist leaves the stage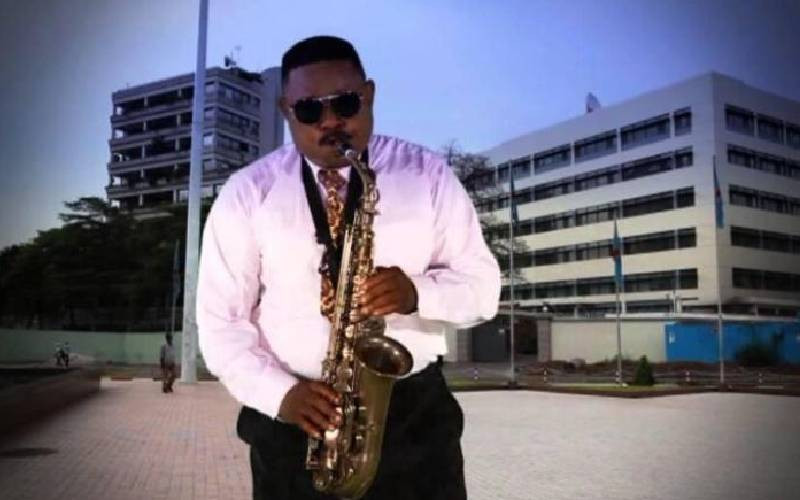 The death of legendary musician and producer Verckys closes the chapter of the first generation of great Congolese musicians now in the fifth generation, writes Charles Otieno
The history of Congolese music cannot be told without mentioning the great saxophonist and producer Verckys Kiamunguna who passed away this week after a long and distinguished career as a composer, bandleader, producer, record company founder and music executive. music business.
Just as Franco Luambo Makiadi was the magician of the guitar, Verckys was the master of the saxophone who thought he was King Curtis, the legend of American jazz. Indeed, Verckys and Franco had a love-hate relationship.
The stylish Verckys joined TPOK jazz in 1963 and left after a bitter fallout with Franco for some cash. You see, Franco had gone on tour in Europe, Verckys took the core of the band, including singer Youlou Mabiala, into the studio and released his own albums behind Franco's back. When Franco returned to Kinshasa, he demanded a percentage from this splinter group, but Vercky refused and went solo. His short stay of three years ends at TPOK Jazz.
Thus, in 1969, he created his own Orchester Vévé, the first indigenous African to own a record company. He also began leading a multitude of groups which he named Orchester Kiam and Orchester Lipua Lipua. He also nurtured several future stars including Nyboma Mwandindo, Pepe Kalle and his Bakuba Empire, Les Grands Maquisards and the Zaiko Langa Langa clan. Verckys also produced music for other major groups of the 1970s, including Les Kamale, Orch Shama Shama and Orch Kiam, among others.
A few years ago, this writer met Verckys in Nairobi when he came to collect his copyright. He was aging and had difficulty walking although he was still well dressed and bubbly. He took yours truly and promoter DS Njoroge on the musical journey of his long career. He spoke fondly of his bands Veve, Bella Bella, Lipua Lipua and TPOK frontman Franco.
"I played a pivotal role in bringing Franco's body home. After all, I was also involved in awarding the title of Grand Master," said Verckys, who was the Association's president. Congolese musicians (SOCADA).
Dressed in a gray silk shirt and matching pants, Verckys addressed issues affecting Congolese music, especially royalties from African countries. "I haven't been paid by my Kenyan distributor, a renowned lawyer for several years," he said.
But as fate would have it, Verckys died looking for his money in Kenya. And in another twist, he died a day after Franco died, albeit 30 years later.
Rumba historian Graeme Ewens in his book, Congo Collosus: Life and Legacy of Franco and OK Jazz opines that Verky brought TPOK Jazz to life.
He writes, "Over the next few years he brought a certain boisterous excitement to the OK Jazz repertoire with his modern interpretation of Congo folk rhythms and provided visual entertainment with his hippie attire and frenetic dance routines."
Vercky's rise to the top was not just about talent, but about business acumen. After playing church, the wealthy kid joined TPOK Jazz in his early twenties. After three years, he resigned and founded Veve, where he improvised on solo electric guitar, a break with the TPOK Jazz repertoire.
His popular cavacha dance was a direct precursor to soukous. The one who started his musical career in 1962 with Los Cantina then joined Congo-Rock before joining Franco's TPOK Jazz in 1963. He became Franco's right arm and delighted. Unlike Franco, Verckys recorded with a more stripped down sound than the OK Jazz.
Vercky's early recordings were collected on the Sonodisc label, then founded Editions Vévé in 1974. In 1976, he changed the name of his label to ZADIS.
Vercky's Vévé Center has become a hotspot for Grand Zaiko Wa Wa, Langa Langa Stars, Victoria Eleison, Mbonda Africa, Afro International, Wenge Musica and other bands. In 1978, he recorded the young sensation Koffi Olomide.
In 1980, Verckys came out of retirement to release new albums on the Vévé International label in Paris with his equally renowned backing band Vévé International. Verckys was elected president of the Union of Congolese Musicians in 1988.
In 2008, Verckys was hospitalized in Brussels for leg operations shortly after completing a new album, Coup de Marteau.
Vercky's death marks the end of an era of great musicians from the first Congolese generation.